The Breakdown of a Realtor's 6% Fee
Is a Realtor's Commission Really Worth It? We used the chart below to understand where your money really goes.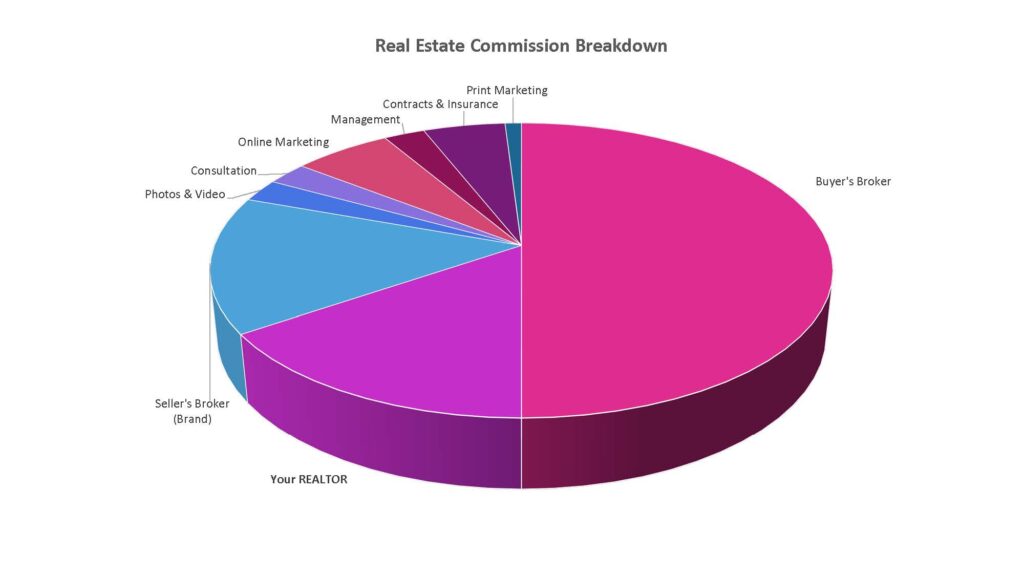 The Cooperating [Buyer's] Broker Gets Half
Off the top, the Buyer's Broker receives half of the total sales commission due at closing. Don't forget that nearby sold homes used to arrive at your price and competing homes for sale also paid 3% commission to the Buyer's Broker. Your market sets that rate, be competitive!
Consultation & Marketing Lay the Path to Success
Stephanie Bateman Group believes that marketing is key. Any successful brand proves that! Did you know that more than 93% of home buyers search online first? First impressions are EVERYTHING in real estate. A big chunk of our real estate agent fee goes to critical time and top tools used for consultation on pricing, staging, photography, online advertising, print marketing, branding, online placement at top websites, postcards, email blasts and social media ads. These tools, when used appropriately, generate interest and showings toward qualified buyers for your home.
That Realtor fee makes your home look like the best, biggest chocolate cupcake in a box of 12 identical pastries. Every kid wants that cupcake. Your agent uses her fee so that every buyer wants your house.

Alexa Collins – HomeLight
Management
Managing buyer leads, proper buyer screening, financing, communication and strong negotiation are also key strengths of Stephanie Bateman Group.
Contracts & Insurance to Closing
Finally, we continue our top notch services by guiding you to closing through contracts, inspections, appraisals, buyer concerns and questions as well as information and coverage for local laws, taxes, ordinances & insurance for errors. One of the biggest reasons to hire a REALTOR is to avoid legal pitfalls and financial errors.
Agents can get broader exposure for your property, help you negotiate a better deal, dedicate more time to your sale, and prevent your emotions from sabotaging it. The right agent brings expertise, to a complex transaction with many potential financial and legal pitfalls.

Amy Fontinelle – Investopedia
Why Realtor Fees Are Worth It
Are Realtors fees worth it? Yes! NAR Research has shown that homes sold with a REALTOR can sell for 25% more than those without. In the Houston area, a real estate broker charges a 6% Realtor fee (due at closing) to market your home and negotiate the best deal for you. At the end of the day you should pick an agent because they are compatible with your goals, your schedule, and your area.  Review their profiles online, in person and in the community to confirm they are going to do amazing work for you and your property.
A real estate agent's commission pays for the marketing & management that gets your home sold. That includes preparation, placement, presentation, negotiation and closing.

Stephanie Bateman, Broker
Stephanie Bateman Group sources the best in the Houston area for pricing research, buyer profiling, top notch marketing & advertising. Plus, her extensive portfolio maintains area knowledge and professional relationships.
Houston Sellers who hire Stephanie Bateman as a real estate agent, will automatically benefit from professional interior and aerial photography, ads in top newspapers and online, email campaigns, and open house flyers. Her professional recommendations are the best guide to success toward your personal and financial needs.
In reality, a big portion of the costs to sell a home goes right back to the owner.
How can we help?
Have questions? Want to discuss your current home? Looking for a new home? Give us a call! Our real estate services are client focused with one-on-one support. We have teamed up with top brands in photography, web hosting, property search & management to offer you the best in real estate services, all in one place.
Stephanie Bateman Group
Houston, Texas
(713) 383 – 8672
Hours
Monday – Friday: 8am – 6pm
Saturday – Sunday: By Appointment